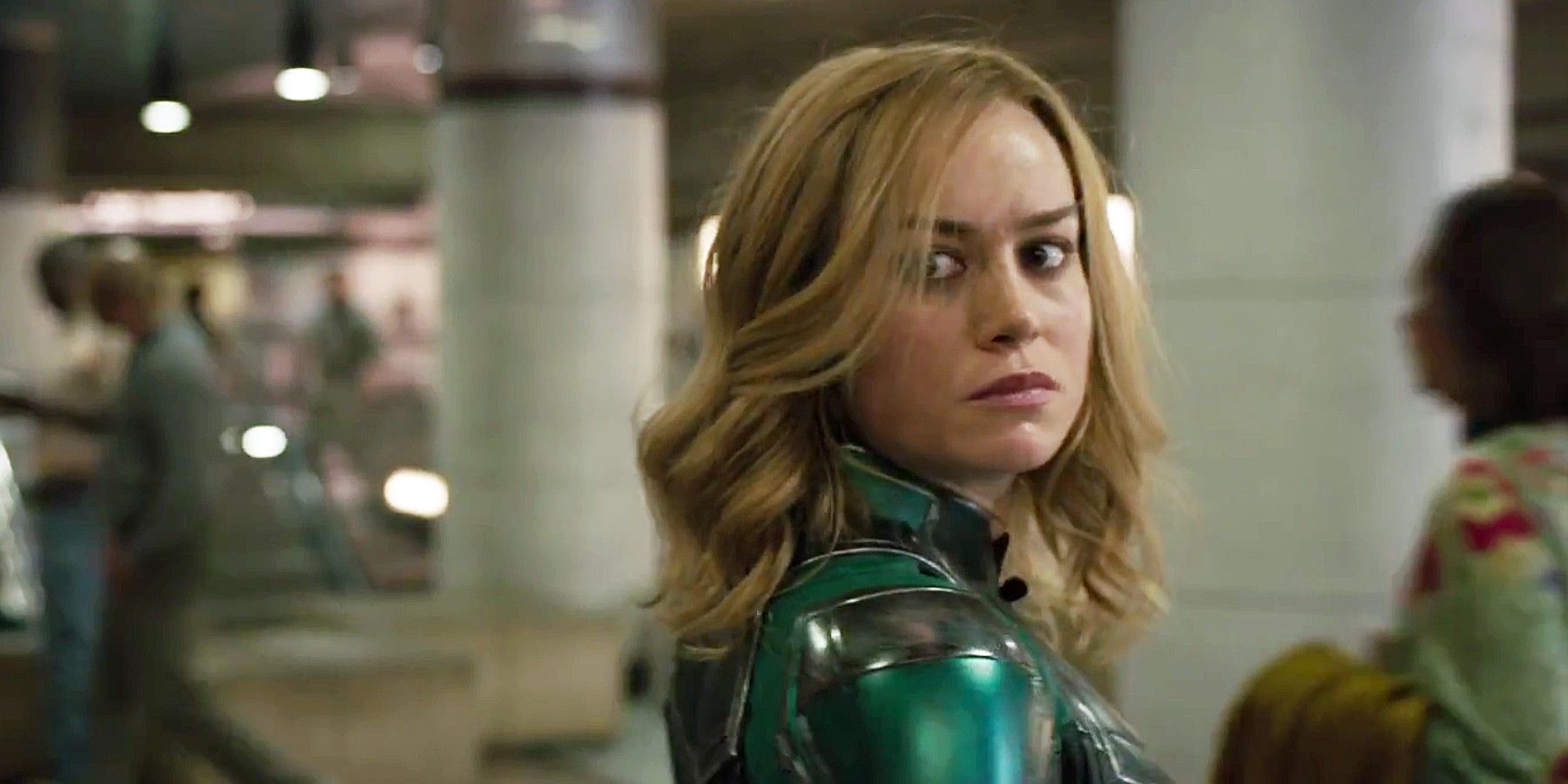 Guest review supplied by Nadine West @andiekarenina…
I don't remember the 1990s being this cool. Truthfully, if you actually lived through the 1990s you will probably have a split thought process as you watch Captain Marvel: firstly, that Garbage, Hole, top-gun shades and flannel shirts were all much more awesome than pop culture history has given them credit for; secondly, that this pop culture has been pretty strenuously cherry-picked…and anyway, it's Brie Larson who makes it all cool.
There is something remarkably un-male-gazey about this latest instalment in the MCU, something that felt fresh and different in a way that DC's Wonderwoman from 2017 failed to fully deliver. Maybe it's partly the 1990s clothes after all: it's hard to let your camera crawl all over your female protagonist's curves if said curves are hidden under Gen-X layering and baggy jeans, but it's a long cold drink of fresh water, as a woman in the cinema, watching a comics franchise, to see a female hero framed, shot and lit like a character, not a pneumatic ass-robot. Partly, though, it's the writing. Hat tip to Ryan Fleck, the only chap in the writing and story-creation process, but this is a film that wears its women-positive credentials all the way down to the bone. Anna Boden (writer/director) and Geneva Robertson-Dworet (writer) offer us a script that is refreshingly free from heteronormative tropes and forced love-interests from top to bottom: Jude Law's Yon-Rogg could have been the sexy mentor with an erotic hold over his beautiful protégé, but he isn't. Young Nick Fury – an eerily de-aged Samuel L. Jackson – could have been lechily fascinated by young Carol, or paternalistically amazed by her talents, but he isn't. It's almost as though the writers were interested in getting a hero story told, and didn't need a digression into "yes, but boobs" getting in the way.
Brie Larson, as Vers/Carol/Captain M, has been criticised for being too bland, too baffled, but I found her compelling throughout. She has humour, not in "wisecracking banter" – and yes, Iron Man et al, I'm rolling my eyes at you – but as in wryness, a sense of the absurd and an understated intelligence that informs her performance. A story that spends a good half of its running time with an amnesiac protagonist is always going to result in a confused central character, which makes it all the more moving when Danvers finds herself reunited with her best friend and co-pilot Maria Rambeau, and pieces together the legacy of love and found family that the Kree have stolen from her. Lashana Lynch is brilliant here: Maria's character is wounded by loss, protective of herself and her daughter, loves Carol fiercely and, just when the viewer might begin to feel a bit queasy about the POC-as-sidekick trope, is given lots of agency and action that's all her own.
The plot is largely cleverly handled: it has divided critics, and the sympathy-switcheroo halfway might have been ultimately unsurprising, but the narrative risk to begin in the Kree world with minimal exposition pays off, just as the second half with its refugee/oppressed group allegory works well as far as it goes – these are broad strokes administered without subtlety, absolutely, but they are not without resonance to a 2019 audience. The other caveat I have about the plot is towards the end, and this one I can't quite get past: once Carol is freed from the control of the Kree, she essentially becomes unstoppable, firing lasers from her hands, knocking missiles out of the sky, flying around, doing energy booms to scare bad guys, GLOWING FROM WITHIN…and, well, meh. Superpowers ain't no fun if they're limitless, as we've all learned, and the finale of Captain Marvel leaves us with a rousing butt-kicking that has no damn jeopardy left in it.  Of course she's going to win. Of course she's going to hang in the sky glowing yellowly like we've learned nothing from the misery of watching Iron Fist.
That said, there's plenty to leave an audience happy. Goose the cat is everything everyone has said he is, and more. Nick Fury is just wonderful in every way, as is sarky Australian Skrull-fella Talos. The meta-Marvel stuff is as fun as ever, with even a final-reel gag about how you pronounce "Marvel" to cheer up the fan-boys and girls. The locations and set-dressings are brilliant, and anyone over the age of 35 will be insufferable as they shout "Ooooh, PJ Harvey poster! OOOOOH, Jumping Jack Flash with Whoopi Goldberg VHS case! OOOOOH I had that Sony Sports Walkman!"
Young people, let them have this one. It's not very often that you get to have a fun superhero movie with incredible women at its heart that ALSO allows you to believe, for two hours, that the 1990s were brilliant.